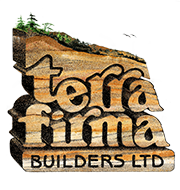 COMING VERY SOON…
Terra Firma Builders
World Leaders in Rammed Earth Construction
---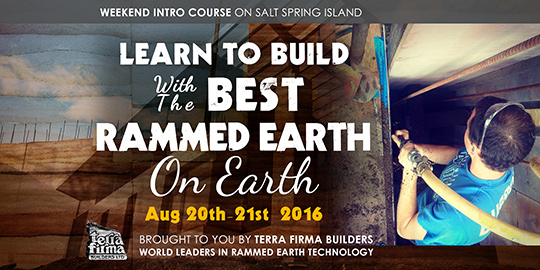 We're pleased to offer our popular INTRO COURSE and  PRACTICUM COURSE* in 2016.
On Aug 20-21 we have the Intro followed by the Aug 22-26 Practicum
*The Practicum is only available to those who have completed the Intro.
Introduction to Insulated Rammed Earth:
Saturday begins with a deep green conversation followed by a tour of the SIREWALL yard which is filled with the evidence of 25 years of technological evolution.  See our warts and wrinkles in the process of refining SIREWALL.  Then lunch and a trip to the local soils pit where we learn about earth.  Shovel your earth sample and take it back for ramming a cylindrical sample.  Colour it as you please.  There is a section on soils analysis and mix design followed by dinner.  After dinner there is a slide show on rammed earth around the world.   Sunday begins with an optional hour on SIREWALL design and engineering.  Then we're off to tour SIREWALL homes, with a break for lunch in the middle.  Coming back we open our cylinders and celebrate how each person expressed themselves in the rammed earth medium.
Practicum:
This is 5 days of being part of the team to assemble a SIREWALL.  Bring your gloves, boots and energy to this experiential learning opportunity.  Learning by doing is when it all starts to make sense.
The cost is $600 for the Intro and $1200 for the Practicum.  For two people coming together the combined cost is $1,000 for the Intro and $2,000 for the Practicum.
At this point there is lots of room… and lots of interest.
---
"Using environmentally friendly building materials and methods, Terra Firma Builders is dedicated to the creation of a healthy sustainable future."
Want to be notified when our new website goes live? 
Sign up below and we'll make sure you are the first to know.
We promise to never spam you.